Reality IS Overrated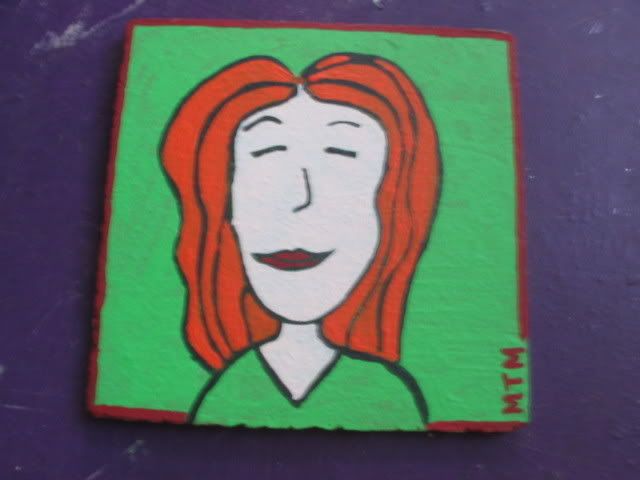 I dropped this tile on a bench somewhere near the park at
Las
Olas
and Andrews Avenue in downtown Fort
Lauderdale
. The parked looked odd, as the streets were glowing purplish and the lawn had really bright green
swirlies
of light. Kids were running around screeching and screaming. Apparently this is the new interactive laser park I've heard was coming to this spot. I just googled for info on the project, which is designed by Seattle-based Dan
Corson
who, according to one Web site, wanted to light up the New River as well, but couldn't because even the sort of lights used in The Titanic wouldn't cut through its murkiness. I recall reading a few years ago that the city had plans of its own to turn the New River green, but just for St. Paddy's day. I don't think that came to fruition either.
I recently read that for the first time in 30 years some major moving company was moving more people out of Florida than into Florida. It's not hard to see why people would flee South Florida. Who can afford it? Even if you bought a house when prices were more reasonable, the rise in insurance and taxes will eventually push you out of it, unless you're filthy rich or work every minute that you're not sleeping, and even that might not do the trick. When you do become homeless, maybe you can catch some sleep on a park bench, if you can find one. But don't close your eyes for long, or someone may beat the shit out of you.
But it's heartwarming to know that with all the problems South Floridians face, there have been ongoing efforts to make the river glow green ... because a singing fountain just isn't enough to get us through these troubled times anymore.
I left my tile somewhere north of that park, on a cement bench of sorts. It's called "Reality is Overrated." The photo of it came out kind of blurry, so I re-shot it. The second photo came out blurry too. At that point, I just figured that, given the title, maybe it was fitting that the image isn't as sharp and clear as others.